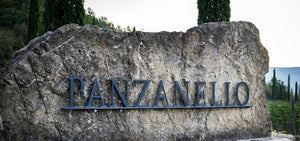 The origins
The history of Panzanello begins way back in 1427, a year that also represents the beginning of a constant search for improvement. In 1436 Francesco Ciucci D'Ugolino had the ingenious idea of selecting the grapes upstream and reusing the seeds of the best grapes to ensure that the land continued to bear ever better fruit. Near Panzano in Chianti, a small village of peasants dedicated to vineyards and olives.
The Sommaruga
In 1964 the Panzanello property was purchased by Anna Maria Sommaruga who decided to spend six months of the year in her country house.
The current villa was born from the transformation of a large farmhouse, consisting of the stable, the home of the peasant family and the granary. Anna Maria Sommaruga decided to transform it as it currently is in order to welcome her children and grandchildren.
In 1965 the work on the house and in the vineyards was completed.
Andrea Sommaruga, the nephew, moved to Panzanello in 1994.
His adventure as a winemaker began.
Andrea Sommaruga
Andrea worked hard in the fieldslearning from Luigi and his son-in-law Vasco. They taught him to know the vine, to prune it, to tie it, to make the harvest, to prune and remove the olive trees, to drive tractors and all he knows today is thanks to them.
It made its first wine bottling in 1995 and it wasn't a bad start. He started with 900 bottles and now the company.
Panzanello produces more than 50 thousand of them every year.
Panzanello was a company of thirty hectares today there are about one hundred and twenty.
Ioletta and Andrea
In 1997 Andrea married Ioletta and she too, having moved from Rome to Panzanello, abandons the idea of being an architect. Thus begins to follow the work of her husband mashe is more fascinated by the people who come from all over the world to taste their winestherefore today he follows the public relations and the farm of Panzanello.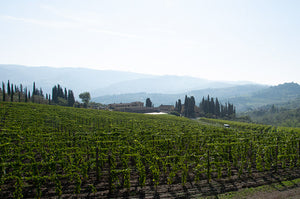 The care of the vineyards
Immediately, Andrea Sommaruga continued to care for and educate their vineyards, as Francesco Ciucci D'Ugolino had done in 1436, continuously selectingthe best grapes, in order to give life, year after year, to quality wines.
The staff
Over the years Andrea and his staff have perfected every single phase of the winemaking process so that the wines could satisfy and conquer even the most expert of his customers.
But his most severe customer is himself, which is why Andrea has invested all his efforts in making sure that every single bottle can convey its uniqueness.
There are two secrets to real success with wine: Patience and respect.
Patience in waiting for everything to be ripe at the right point to have a quality product. Respect for nature made us become an organic company in 1998.
... the rest of the story will be told by the sons of Andrea and Ioletta, Giorgio and Carlo.