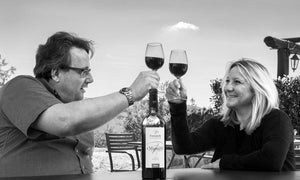 PANZANELLO WINE TOUR
Savor Chianti Classico wines and atmospheres
The Welcome
Good wine, history and passion.
Hello! We're Andrea and Ioletta and we're looking forward to welcoming you at Panzanello to embark together on a special trip: it begins with a grape and turns into wine. We'll be greeting you as soon as you reach Panzanello and soon after your journey will begin, meandering through wine flavors and aromas while learning about our winemaking philosophy and historic legacy. It will be fun, informative and tasty!
Tasting room
"...with view"
In Panzanello we have both a tasting room with a panoramic terrace and a large room inside the cellar where you can taste the wines produced by our vineyards and the oil from our olive groves and we offer you different types of tastings. In each program, you will taste 3 wines of our production.
FOR FREE
Tasting
If you want to discover the wonderful Chianti Classico area, come and taste the Panzanello wines with us and we will tell you the story of our company.
The wine tasting is free and will be combined with a bruschetta with Panzanello extra virgin olive oil…. We will be there waiting for you! You can also combine, together with our wines, appetizing Tuscan platters with salami, bruschetta or local pecorino cheese….. you will be the one to choose and you can spend a few hours relaxing.
• Hours: Monday-Saturday, 10:30-18:00 Private parking
• Book below or contact us directly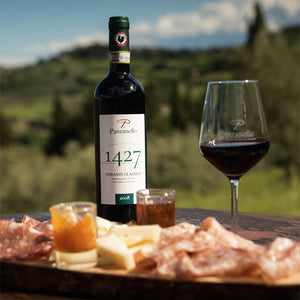 OUR WINES
You can buy our wines directly in our Cellar.
If you can't bring the bottles with you, we can ship them directly to your home.
Winery Tour, Tasting and Tuscan Chopping Tour
32 € P.P.

Spending a day in the beautiful Tuscan countryside sipping excellent wine, making new friends, visiting the Panzanello cellars in the heart of the Chianti Classico (Gallo Nero) will be an unforgettable experience. The tasting will be served in our comfortable tasting room or on the splendid terrace overlooking the Castle of Panzano in Chianti. You will be welcomed by the owners or by kind and prepared staff. We are waiting for you!

The tasting includes the wines of our production paired with bread and Panzanello extra virgin olive oil and tastings of typical local products.

• Types of wines: from Chianti Classico to Super Tuscany, from rosé to bubbles.
• Hours: Monday-Saturday, 10:30-18:00
• Duration: 1.5 hour
• Private parking
• Reservation required
• Read the FAQs
Lunch in Panzanello
64 € P.P.

Do you want to know what you will do during the time you spend with us?
We will start with the view of the Panzanello vineyards and enjoying an exciting panorama, we will tell you the story of the Chianti Classico and the Sangiovese vineyards.
We will visit the Panzanello cellars where our wines rest for months, or even years in wooden barrels, where the grapes become wine, which ferments to give us the pleasure of drinking it.
After visiting the cellar we will take you to the tasting room. Local wines and gastronomic products will satisfy your palate: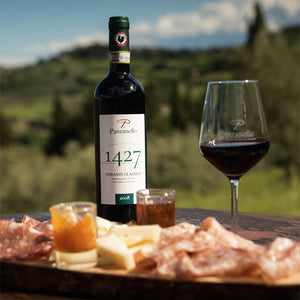 Our charcuterie boards
During your tasting, discover with us the typical products of the area.
TASTINGS
We are waiting for you!
Opening: Monday-Saturday
Tasting hours: 10:30am-6:00pm.
Lunch hours: 11:00am-2:00pm.

Via case Sparse, 86,
Panzano - Greve in Chianti